Are you tired of pushing traffic to affiliate programs that don't pay?
Sick of seeing numbers that seem too bad to be true? They probably are. After 10 years in the affiliate business, I've seen it all. Some of these clowns out there will do anything to weasel their way out of paying you what you're due!
I'm determined to make our referral program one of the good ones. It's transparent, automated, and bullshit-free. I don't care who you are, what you're about, where you're from, or whatever.
Just send us good referrals and we'll pay you 30% of the sales you help to generate.
The way it's supposed to be!
Here are a few of the landing pages that we have available now: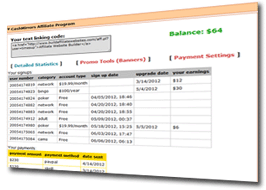 http://affiliateagent.org/code/~your~username/
http://signup.cashmirrors.com/code/~your~username/
Sign into your CashMirrors account and click 'Referral Program' in the Menu dropdown for a full list of landing pages and banners:
http://www.buildaffiliatewebsites.com/login/
Start earning now by promoting the best affiliate website program out there! We'll pay you 30% of all upgrades, and 30% of all extra services (logo design, SEO, content, etc.) that the client orders.
You can easily earn $300 or more with a single referral!
Hope to have you aboard.
Full terms for the new affiliate program can found in Section 17 of the User Agreement.