In case you haven't figured it out yet, BitCoin is pretty awesome for online gambling. It's instant, has no fees, and it's accepted all over the world. I might not convert all of my money into BitCoin, but if I were looking to start a bankroll for the purpose of gambling online, I would seriously consider creating it in BitCoin.
As an affiliate, there is an excellent opportunity for you here, too. You should start investing some of your time into promoting BitCoin gambling. Your CashMirrors account is a great resource that you can use for this! Here is an example of a CashMirrors site that was built just for that purpose: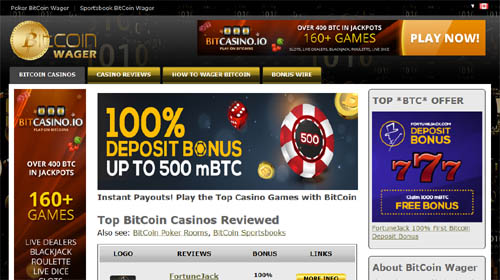 http://www.bitcoin-wager.com
One of the big brands being promoted in BitCoin gambling is
FortuneJack
. It has a top notch casino and the poker room seems to be quite solid as well. Additionally, you can find bingo games and a binary trading feature, plus a live exchange where you can convert your BitCoin into other cryptocurrencies. You can check out the
top promotions at FortuneJack here
.
If you like what you see and want to start promoting the FortuneJack brand, just sign up for a regular account. The affiliate program and player accounts are combined.