You might have signed up for a CashMirrors account, and maybe even built a website or two, but how well do you really know our affiliate website building program? First launched in 2005, CashMirrors has evolved significantly over the years. New features are constantly being added, and you most likely aren't aware of them all. Here are a few examples:
1. Pixel / Postback Tracking
Every link that you create in the Cloaked Links manager includes a tracking pixel and postback address. Many affiliate programs will allow you to add these to your links and landing pages. Then, when you make a new lead or conversion, it will automatically be recorded in the Cloaked Links list of your CashMirrors account.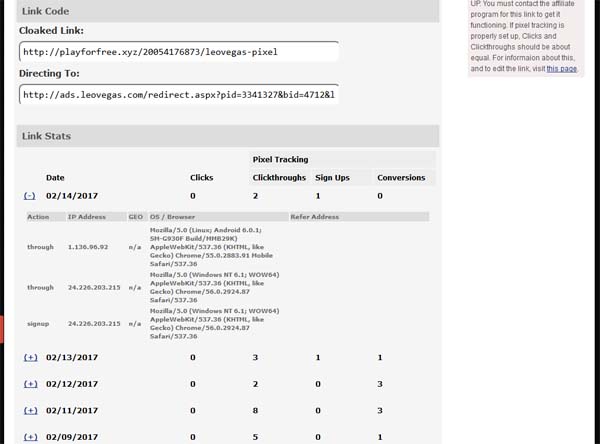 CashMirrors Pixel/Postback Tracking Stats
2. Affiliate Marketing Tips
We have a selection of over 30 original, thought-provoking articles on Affiliate Marketing, Website Building, and other relevant topics. Most recently added: "Is WordPress Broken?" and "SimilarWeb is a Scam.." See the full list
here
3. LeadSaver Landing Pages
Have you ever promoted a brand, and built up good traffic for your page, only to see that brand go offline? Or perhaps you weren't being treated fairly or credited for all of your referrals to their affiliate program? You could just take the page down, but why waste a good source of traffic? With the LeadSaver, you can create custom landing pages with the click of a button. These will replace your affiliate tracking links, and will instead track your leads' names, emails and phone numbers right on your CashMirrors account.
4. GEO Targeting
You can create custom versions of your website according to where your visitor is located. Promoting a brand that does particularly well in the UK? Place it front and center for your UK visitors. Is another brand blocking American traffic? Hide its review and banners when your visitors are in the USA. Have visitors of Germany? Translate your content into German for them. The possibilities are endless..
5. Grow Your List
Email is one of the best sources of affiliate website traffic. With CashMirrors, you can build your email list, and keep in touch with it, through the Newsletter feature. You can also easily add emails you've collected through the LeadSaver to that list.